About Hidden Hollow
Location, Location, Location.
Live the dream in the most sought-after real estate in the world. Jackson Hole is surrounded by surreal natural beauty and limitless outdoor pursuits. Downtown Jackson is the hub of world class dining, shopping and entertainment. Living at Hidden Hollow puts you within walking or biking distance to all. Practice your fly-fishing skills on one of the top tributary streams on in the world, Flat Creek, which rests on the Elk Refuge. Treat yourself with a meal out at Local or step out into the cultural hub of Jackson, The Center for the Arts, for an art class or to enjoy the theater. Lap swimming or family fun is available at the Teton County Parks and Recreation aquatic center, which is conveniently located next door.
Green Initiatives & BEST Certification
Soon to be Jackson Hole's First Certified BEST Green Community
Hidden hollow provides a healthier living environment. From the reduction of pollutants and harmful chemicals to the incorporation of energy-efficient materials and geothermal systems in our community, our goal is to become the first BEST Sustainability Certified Community in Jackson Hole!
Along with reducing the environmental impact of our community, our green apartment living initiatives will enhance the quality of life for our residents, lower operating costs, and maximize value to Townhome and Homeowners. Sustainability is the way to a more fulfilling and balanced life. Hidden Hollow creates an environment that nurtures and builds the whole person- body, mind, and community.
Site Plan
With a property this unique and special, the question of course is what to do with it? The best solution for this property is make sure that it enhances the diversity of Jackson Hole by providing a mix of residential housing—creating a comfortable balance between the multi-family and single family.
For any questions or additional information, please give us a call.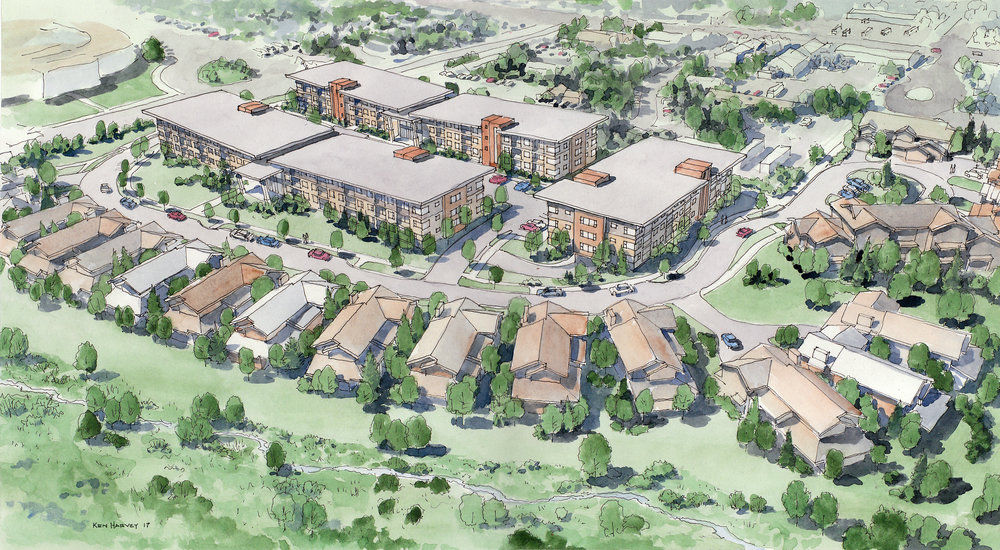 Townhomes and Single Family homes.
Join the Waitlist.